Posted in News on May 09, 2020.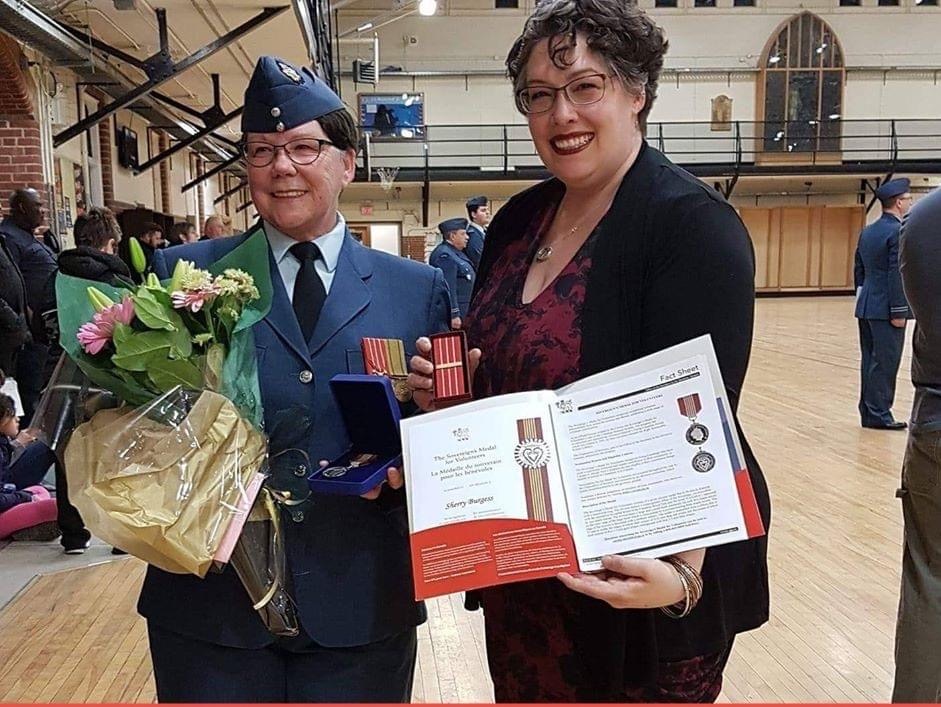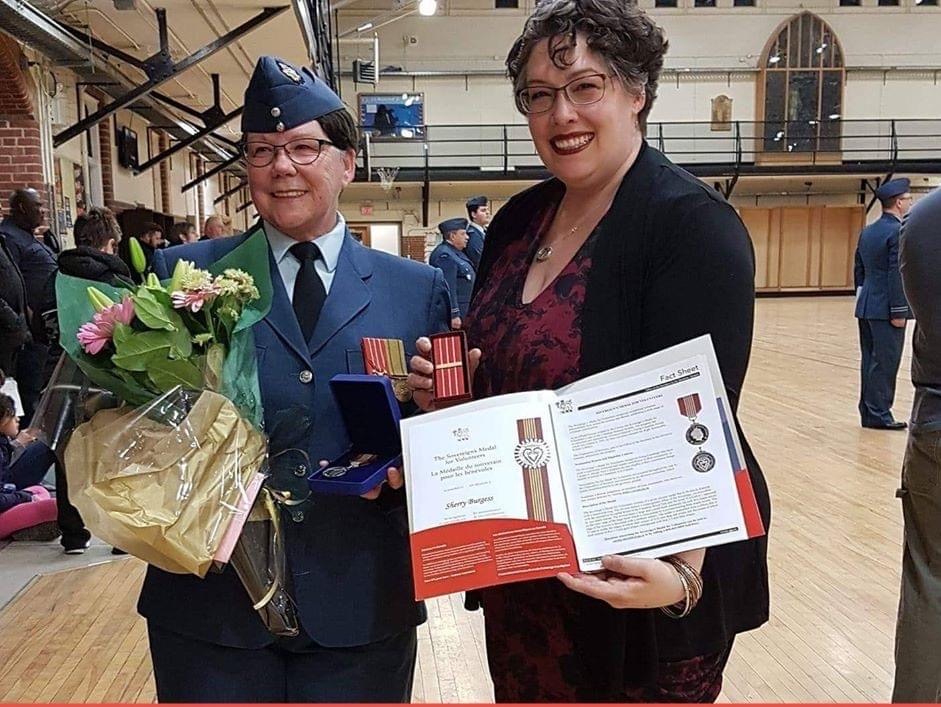 Today, the cadets, sponsors, and staff of 34 Roland J. Groome would like to wish Captain Burgess CD II a very Happy 65th Birthday! This is not the only milestone for Sherry today as this also marks her retirement from the Canadian Armed Forces and the cadet program.
Sherry first came to the Squadron as the mother of two young cadets in 1986. She soon found herself in the role of parent volunteer which eventually led her to taking on the role of Chairperson for the Sponsoring Committee.  In 1994 she became a member of the squadron staff as a Civilian Instructor before enrolling into the Canadian Armed Forces in January of 1995.
During her tenure with 34, Captain Burgess served as Training Officer, Commanding Officer (2002-2007) and most recently as our Administration Officer.  Her duties also took her to the Cadet Summer Training Centre in Penhold, several of the cadet Lumsden sport weekends, numerous Saskadet Biathlon competitions, and cadet trips ranging from Victoria, Ottawa and Colorado Springs to name a few.
Her service to the cadet community has been admirable and exemplary and one cannot underestimate the value of the positive impact she has had on generations of cadets.  Her dedication did not go unnoticed having been recognized with the Saskatchewan Volunteer Medal, an Air Cadet League of Canada Certificate of Recognition, the Canadian Forces Decoration with clasp, and most recently the Sovereigns Medal.
When the world goes back to normal, we will be celebrating this big day with a proper Depart with Dignity Ceremony, and give everyone a chance to show their appreciation for all that you have done.
Thank you for your service and Congratulations on your double celebration today! Bravo Zulu!
Capt Jean Hamm
Commanding Officer
34 Roland J. Groome RCACS
Congratulatory Messages
We met over 30 years ago when I was a cadet at 34 'Sabre' Squadron and you were a parent of cadets. Long, long story short we both became officers and over the years worked together in many areas of the program. You are one of the most loyal and hard-working officers that I have ever met and I found you to be completely dedicated to your squadron and the cadet program. I will miss working with you and wish you all the best in your well-deserved retirement from the program!
Capt Rhonda Notschaele
J3 Zone Training Officer (Regina), Regional Cadet Support Unit (Northwest) Canadian Armed Forces
Captain Burgess is one of the best and caring officers I have met over the 5 years that I have been in the cadet program. She always makes sure that everything goes smoothly with the admiration side, especially when it's time for camp applications, I see how much work she puts on this to make every cadet in the squadron experience something in their life that they will bring down the road in their life. These simple things that Captain Burgess does bring a huge impact on someone's life. I had this experience when I had my chance on applying for the exchange program, she helps me by getting all the right forms and getting all in on time beforehand which help me getting accepted for the exchange program. Captain Burgess is an outstanding officer in the Canadian Forces and sets a good role model for the younger cadets and CAF members. Cadet training will not be the same without you. Congratulations Ma'am on your retirement, and thank you for the dedication that you have put on this great program. Wishing you the best and luck for your retirement and the upcoming new chapter of your life.
WO1 Cayari (Retd) Now Pte. Cayari
Congratulations on your retirement Captain Burgess! You have taught me a lot and given me numerous pieces of advice that I use to this day. When I came into cadets at 12 years old I can't deny I was a bit intimidated by you. However, as I stayed in cadets and gradually learned more about you, I realized that you are a very kind and wonderful person. I also learned that you were hard on us to make us better people, and that is something I will never forget! I have a lot of respect for rules and authority, and a good amount of that is probably from cadets. I still use the belts, polish my everyday boots, practice my survival skills when I'm camping and more. I am currently a student at the university of Regina taking international studies with a concentration in international affairs and a business certificate. I am planning on becoming an international teacher, and I would be lying if I said that teaching classes at cadets didn't have a influence on that. I realized that I really enjoyed teaching and helping others.Thank you of everything you did for me and many other cadets! And, Congratulations on your retirement! You will be missed!
From Kriska, Sarah